Overview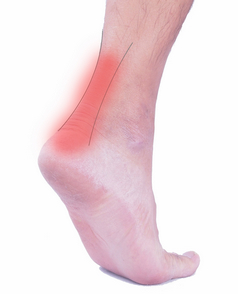 The Achilles tendon is the largest tendon in the body. It connects the calf muscles to the heel and is active during almost all activities including walking, jumping, and swimming. This dense tendon can withstand large forces, but can become inflamed and painful during periods of overuse. Pain results from inflammation (tendonitis) or a degenerating tendon (tendinosis). Achilles tendon pathologies include rupture and tendonitis. Many experts now believe, however, that tendonitis is a misleading term that should no longer be used, because signs of true inflammation are almost never present on histologic examination. Instead, the following histopathologically determined nomenclature has evolved. Paratenonitis: Characterized by paratenon inflammation and thickening, as well as fibrin adhesions. Tendinosis: Characterized by intrasubstance disarray and degeneration of the tendon.
Causes
The Achilles tendon is a strong band of connective tissue that attaches the calf muscle to the heel bone. When the muscle contracts, the tendon transmits the power of this contraction to the heel, producing movement. The Achilles tendon moves through a protective sheath and is made up of thousands of tiny fibres. It is thought that Achilles tendonitis develops when overuse of the tendon causes the tiny fibres that make up the tendon to tear. This causes inflammation, pain and swelling. As the tendon swells it can begin to rub against the sheath surrounding it, irritating the sheath and causing it too to become inflamed and swollen. It has a poor blood supply, which can make it susceptible to injury and can make recovery from injury slow. Factors that can lead to the development of Achilles tendonitis include, tight or weak calf muscles, rapidly increasing the amount or intensity of exercise. Hill climbing or stair climbing exercises. Changes in footwear, particularly changing from wearing high-heeled shoes to wearing flat shoes. Wearing inadequate or inappropriate shoes for the sporting activity being undertaken. Not adequately warming up and stretching prior to exercise. A sudden sharp movement that causes the calf muscles to contract and the stress on the Achilles tendon to be increased. This can cause the tendon fibres to tear.
Symptoms
Pain anywhere along the tendon, but most often on or close to the heel. Swelling of the skin over the tendon, associated with warmth, redness and tenderness. Pain on rising up on the toes and pain with pushing off on the toes. If you are unable to stand on your toes you may have ruptured the tendon. This requires urgent medical attention. A painful heel for the first few minutes of walking after waking up in the morning. Stiffness of the ankle, which often improves with mild activity.
Diagnosis
There is enlargement and warmth of the tendon 1 to 4 inches above its heel insertion. Pain and sometimes a scratching feeling may be created by gently squeezing the tendon between the thumb and forefinger during ankle motion. There may be weakness in push-off strength with walking. Magnetic resonance imaging (MRI) can define the extent of degeneration, the degree to which the tendon sheath is involved and the presence of other problems in this area, but the diagnosis is mostly clinical.
Nonsurgical Treatment
Most cases are successfully treated non-surgically although this is time-consuming and frustrating for active patients. Treatment is less likely to be successful if symptoms have been present more than six months. Nonsurgical management includes nonsteroidal anti-inflammatory medications, rest, immobilization, limitation of activity, ice, contrast baths, stretching and heel lifts. If symptoms fail to resolve after two to three months, a formal physical therapy program may be of benefit. An arch support may help if there is an associated flatfoot. A cast or brace to completely rest this area may be necessary. Extracorporeal shockwave therapy and platelet-rich plasma injections? have variable reports of success. Nitroglycerin medication applied to the overlying skin may be of benefit.
Surgical Treatment
Surgery is considered the last resort and is often performed by an orthopedic surgeon. It is only recommended if all other treatment options have failed after at least six months. In this situation, badly damaged portions of the tendon may be removed. If the tendon has ruptured, surgery is a foot corn painful,
http://gabrielle6logan3.jimdo.com
, necessary to re-attach the tendon. Rehabilitation, including stretching and strength exercises, is started soon after the surgery. In most cases, normal activities can be resumed after about 10 weeks. Return to competitive sport for some people may be delayed for about three to six months.
Prevention
Suggestions to reduce your risk of Achilles tendonitis include, incorporate stretching into your warm-up and cool-down routines, maintain an adequate level of fitness for your sport, avoid dramatic increases in sports training, if you experience pain in your Achilles tendon, rest the area. Trying to ?work through? the pain will only make your injury worse, wear good quality supportive shoes appropriate to your sport. If there is foot deformity or flattening, obtain orthoses, avoid wearing high heels on a regular basis. Maintaining your foot in a ?tiptoe? position shortens your calf muscles and reduces the flexibility of your Achilles tendon. An inflexible Achilles tendon is more susceptible to injury, maintain a normal healthy weight.
برچسب:
foot pain for no reason
،
woke up with a foot pain
،
foot pain cures
،
ادامه مطلب
امتیاز:
بازدید:
+
نوشته شده:
۱۶ مرداد ۱۳۹۶
ساعت:
۰۷:۱۴:۵۶
توسط:Stacia Schweizer موضوع: